Perfect Companion for Reader's Education Journey
Utilize LUCA Reading Platform as an effective reading tutor to improve your reading ability like never before. Take a lesson, read some stories, and witness the apparent progress you make it's just this simple!
An incredible adventure awaits us!
Click to start building a story
Experience LUCA Today
As Seen In
Benefits of LUCA.ai
Reading is a vital skill for children in today's world, and LUCA.ai offers a powerful platform that parents can use to help their children improve reading skills.
Boost Reading
Invest in Your Child's Future
Reading fluency and proficiency is key to understanding everything in this world where most knowledge still goes with the traditional form of text. However, people struggling with reading may encounter unnecessary obstacles in learning other important skills, including but not limited to maths, logics, engineering and management. Early investment in improving children's reading capacity translates into their later success in life.
Success in Education
Improve Reading Skills to Graduate High School and Beyond
23% of students below average readers in 3rd grade never graduate from high school. LUCA can make a difference in student's life.
Reading Revolution
Help Students Achieve Reading Proficiency by 3 Grades Above
Students that achieve above 3 grades in reading proficiency are 4x more like to fulfill higher education and earn more income in their lifetime. LUCA helps not only disfluent readers secure their deserved proficiency, but also facilitates excellent readers to reach even higher.
Proactive Approach
Empowering education through personalized learning insights.
Our platform offers personalized teaching that eliminates the need for parents and educators to micromanage instruction. Our aim is to promote a proactive and empowering educational experience for all, where students can learn at their own pace and feel supported in their learning journey.
LUCA Platform
Reading Solutions
LUCA.ai's Reading Solutions are game-changers in the education space. Our innovative and personalized approach provides the ability to tailor lessons based on each student's specific reading instructional needs, enabling them to learn faster and better retain information.
We believe the impact of these solutions can be far-reaching, not only providing access to knowledge but empowerment through education as well.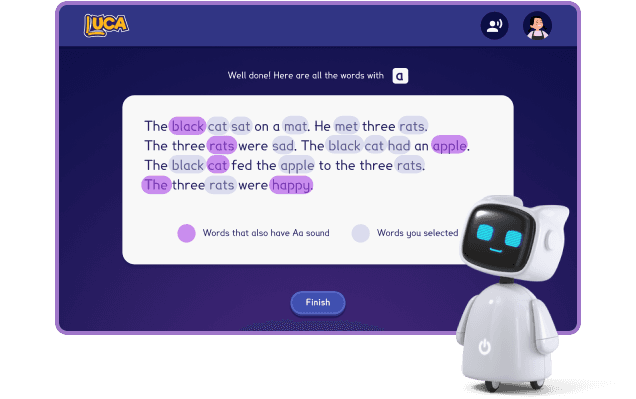 LUCA Platform
Reading Technology
With the current advancements in technology, it's evident that personalized learning is ushering in the future of education. LUCA is leading this change with its proprietary AI algorithm that unlocks vast possibilities for personalizing reading and learning experiences.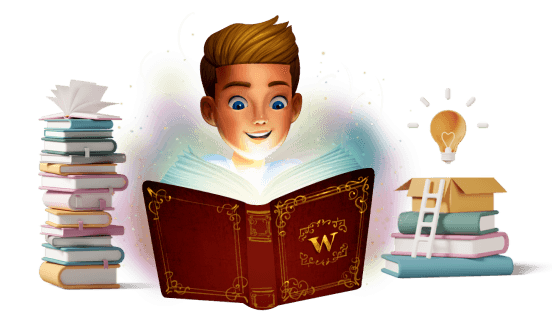 StoryLabs™
Our StoryLabs™ module creates customized stories that target specific reading challenges and interest for each reader to help them make progress while unleashing the endless fun of reading.
LUCAListens™
We build our LUCAListens™ module with phonetic-level automatic speech recognizer that tracks the specific letter-sound pairs each reader struggles with, which creates the potential for real-time intervention.
ProfessorAI™
The ProfessorAI™ module evaluates each reader's progress and provides meaningful feedback and personalized intervention strategies to promote long-term improvement in reading skills.
Support by Evidence-Based Research
Our methods are grounded in research completed by some leading experts in dyslexia and reading. Through our powerful LUCA Learning Platform, we are excited to offer this innovative solution!
Sign Up Free Trial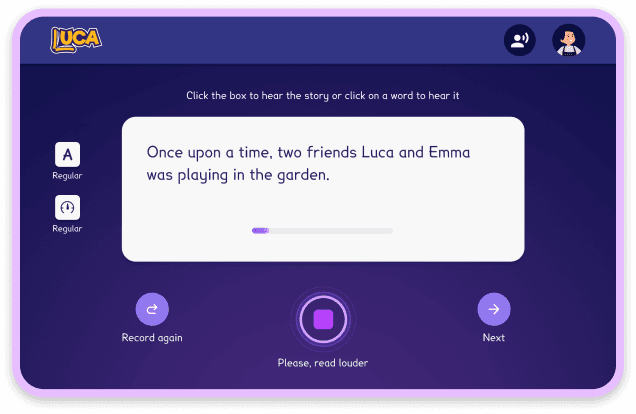 FAQs
Everything you need to know about LUCA. Can't find the answer you're looking for? Please reach out to our friendly team at info@luca.ai.
Contact Us
Why are LUCA Learning Platform and its services important?
Reading disfluency happens to at least 20% of the population without them even noticing it, and LUCA is here to help with a simple process of "lesson, story and progress"! Readers' voice recordings of reading customized stories will be analyzed to identify difficult letter-sound pairs, which in turn determine upcoming lesson order and story contents that aim to help them conquer the challenges. With such improvement, LUCA strives to improve children's reading proficiency and associated learning capacity in general to help them achieve life successes.
How does LUCA Learning Platform work?
Upon registration, the reader will be given three short stories to read out loud. The microphone shall be turned on your device so we can capture the reader's voice data. We post-process the data to mask out any identity-relevant information before using it to train and improve our AI models, so without any concerns about privacy issues, the reader contributes to a smarter LUCA AI while enjoying all the reading-assistive perks of it! Before we launch the beta version of the LUCA Reading Platform, you will receive an email with a link to your FREE enrollment access to the program.
What are the benefits of signing up today?
Personalized learning experience
Additional insights on reading struggles for parents & educators
Maximize engagement for readers
To suit the diverse needs of readers, we provide 2 subscription plans that offer different access levels to our AI modules. The more advanced plans you choose, the more targeted curriculum designs and detailed performance reports you get.
A parent or legal guardian will need to sign a Parental Release Form. There are a limited number of spots available for the FREE Enrollment Period (ends on Jun 30, 2024). Secure your spot today!
When will LUCA be publicly available?
Beta Version Release: Oct 2, 2023

Register today to be among the first LUCA explorers of the world's first AI technology on reading tutoring and unlock all the surprises for your kids and students on the journey to becoming a reading master!